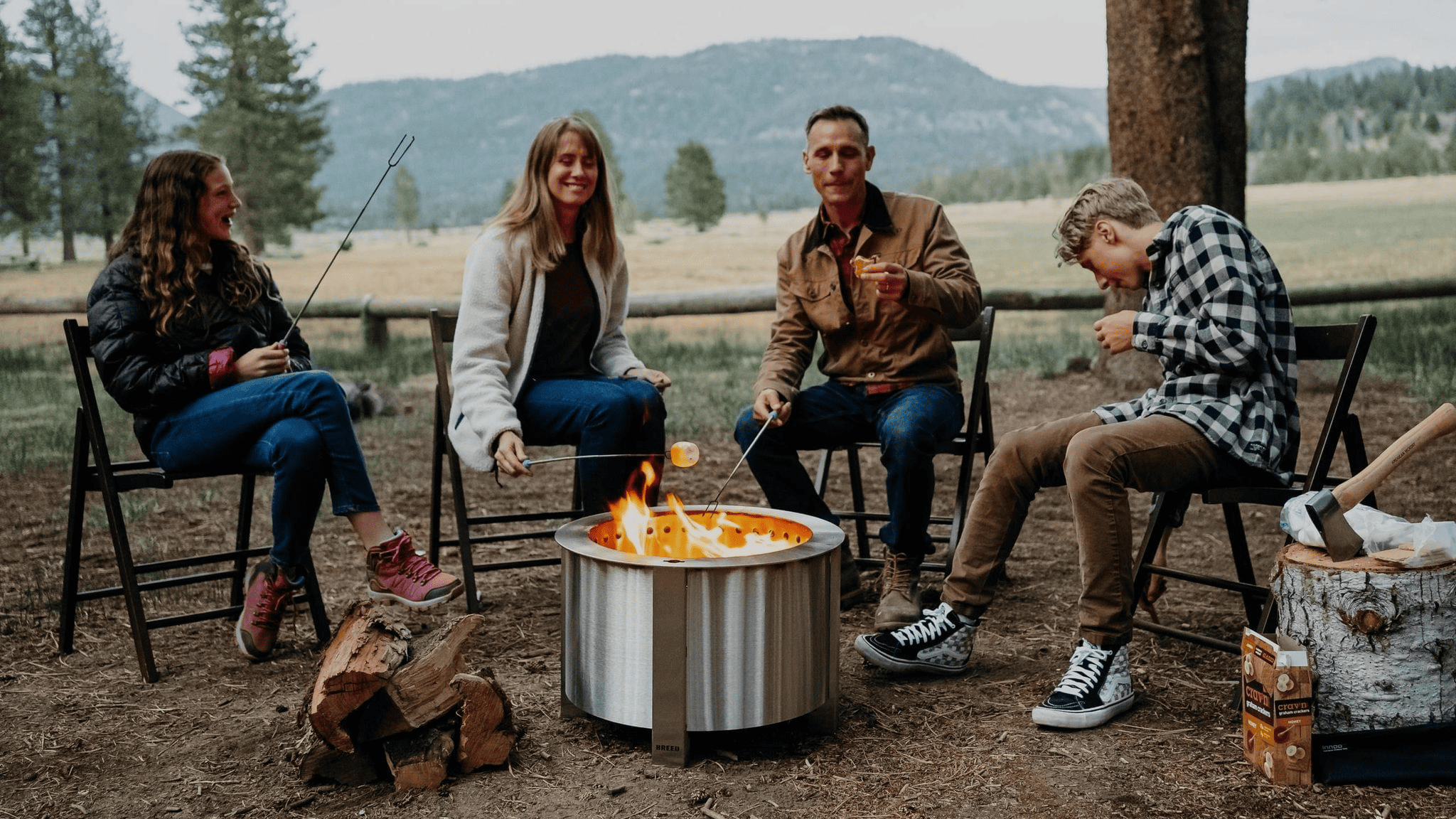 why buy breeo?
The Anatomy of the World's Best Fire Pit
Free Shipping

Made in Pennsylvania

Lifetime Warranty
Free Shipping

Made in Pennsylvania

Lifetime Warranty
How Breeo Fire Pits Rise Above the Competition
Since we pioneered the first smokeless fire pit, we've been on a mission to perfect the backyard fire experience. With unmatched durability, versatility, and performance, we're committed to constant improvement of our products. We don't settle for "good enough". Read on to see what sets us apart.
Smokeless
We invented the smokeless fire pit back in 2011, and we've been perfecting it ever since. Our smokeless fire pits are engineered to burn clean and ignite smoke before it has the chance to escape the fire pit. The end result: more flames and less tears. Our patented X Airflow™ system acts as a primary air source to keep the fire burning hot. The hot air then rises through the double walls, out of the secondary combustion holes, and burns off the smoke. No more being chased around the fire by smoke.
Versatile
Breeo fire pits are built for your lifestyle and backyard, offering customizable features you won't find anywhere else. With the versatility of the adjustable Outpost™ grill, Searplate™ rim, and other cooking accessories, tackle all your live fire cooking aspirations. Whether you're looking for the ultimate grilling machine, a fire pit for family nights, or an eye-catching centerpiece; you can build it with Breeo.
Durable
Our fire pits are the strongest on the market and to prove it, we put them to the test. Built with thick gauge stainless steel, Breeo smokeless fire pits are 258% stronger than our leading competitors and are built to endure accidents, the elements, and extreme conditions. Durable, USA-made quality is what you'll get every time you buy from Breeo, which means you can treat your fire pit like a fire pit.
3000+ five star reviews
CODY F.

"AN ABSOLUTE BEAST! TALK ABOUT BEING THE NEW COOLEST NEIGHBOR ON THE BLOCK! THIS THING IS LIKE A MAJESTIC FIRE BREATHING DRAGON!"

Brad C.

"WELL BUILT AND SMOKELESS! WE LOVE OUR BREEO! THE CONSTRUCTION IS HEAVY DUTY AND IT STILL LOOKS GREAT AFTER OWNING FOR ONE YEAR."

Tim M.

"AWESOME FIRE PIT!!! THIS PIT ROCKS! WISH I WOULD OF KNOWN ABOUT BREEO YEARS AGO."
See All Reviews