FREE SHIPPING
MADE IN PENNSYLVANIA
LIFETIME WARRANTY
FREE SHIPPING
MADE IN PENNSYLVANIA
LIFETIME WARRANTY
DETAILS
You want a beautiful stone or concrete fire pit, but you don't want the smoke. That's why we built the Insert Ring. Designed to bring the benefits and functionality of a freestanding Breeo smokeless fire pit without compromising your ideal aesthetic. This includes cooking for large groups!
The SearPlate™ rim on the X Series 30 is almost twice the size of any we've built before, and it has dual Outpost™ grill attachment capabilities (fits both the Outpost™ 24 and Outpost 19™ grill) for grilling for the masses. The X30 Insert Ring bundle includes everything you need to make your built-in fire pit smokeless: The X Series 30 and the Insert Ring. Block surround is not included. Click here for instructions on how to install the Insert Ring
How It Works -

The Insert Ring 

is designed with four small notches around the top that allow it to

 draw primary air and double as a locking system for the fire pit lid. As the primary air heats up, it travels back up through the walls of the fire pit. The hot air then exits the double wall through the holes around the inside of the fire pit. This pressurized, heated oxygen then mixes with the smoke causing secondary combustion. 

The Breeo Ecosystem - The X24 Insert Ring Bundle is compatible with all accessories and allows you to choose your fire pit finish, add a SearPlate™ rim, and cook with the full capability of a freestanding Breeo smokeless fire pit.
Easy Installation - Set the Insert Ring on your stone or block coping. Slide the fire pit in. Easily pull it out when you want to move it again. It's that simple. No assembly required. Your Insert Ring bundle ships fully assembled and ready to light.
Unparalleled Versatility

- Take your fire pit camping with you or leave it in your patio masonry. The choice is yours. The portable X Series smokeless fire pit is designed for versatility to fit your lifestyle.

Family Friendly - A safer solution to the fire pit, the Insert Ring bundle allows for a buffer between your smokeless fire pit and your kids.
USA Made - Always. We like to keep a close eye on our products, and we know the only way to do that is to keep it in house, here in Lancaster, Pennsylvania. Your smokeless fire pit is held to a higher standard from start to finish.
Got questions? Check out our FAQs or call us at 1-800-413-9848
For patent information click here. 
PRODUCT OVERVIEW
Smokeless
So, what does smokeless mean exactly? Simply, it means less smoke. Our fire pits are engineered to drastically reduce their smoke output - saving your eyes and the environment simultaneously.
Fires smoke because of 3 reasons: lack of heat, oxygen or the wrong fuel. The key to a smokeless system is creating more airflow and burning a hotter fire.
To do this, we incorporate our patented X Airflow™ system into the bottom of our fire pits for primary combustion. Meanwhile, double-walled convection pulls air up into the walls to reburn the smoke on it's way out of the fire pit (aka secondary combustion). The result: a campfire experience that doesn't require moving your chair every 5 minutes.
Built to Last
The shine of 304 Stainless Steel or the architectural vibe of Corten Steel? Truth is, you can't go wrong. Both metals will last a lifetime. Used in commercial kitchen appliances and automotive wheels and rims, 304 Stainless Steel is designed for sleek performance. Corten Steel, on the other hand, is engineered to develop a weathered iron oxide surface coating (patina), protecting your fire pit from the elements the same way it does for bridges and building facades around the globe. Your Corten fire pit will arrive in a blue steel finish, and will develop the patina over time. Whether you choose Stainless Steel or Corten, your smokeless fire pit is built to withstand the elements and the test of time right here in Lancaster, PA.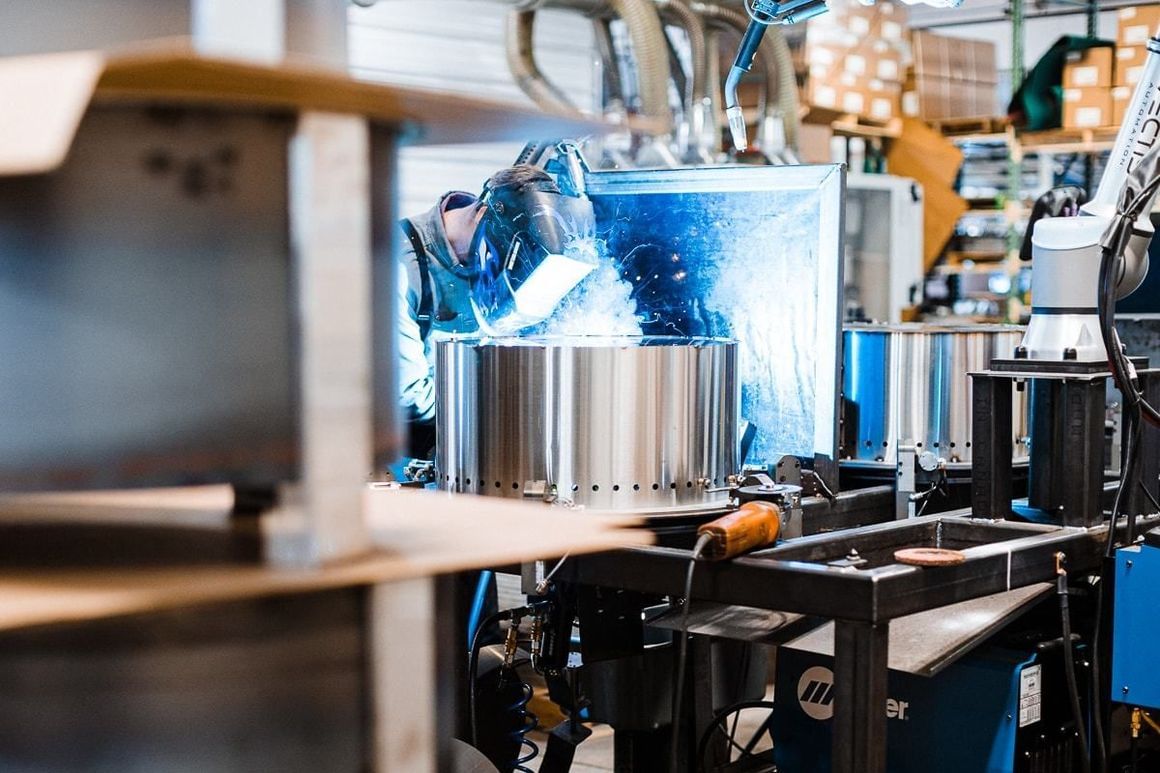 Customized for Your Lifestyle
Whether you're the master chef, the patio dweller or the backyard adventurer, the X Series Line has something for everyone. Up your cooking game by adding a Sear Plate™ onto your smokeless fire pit for those seared steaks, or upgrade to the Firemaster Package for the Outpost™ adjustable grill, kettle hook and kettle.
Maybe that's not your thing, but you love a good patio stone coping fire pit. The X Series Insert Ring allows you to slide your X Series fire pit right into the fixture you already have, and offers you the flexibility to pull it out and keep it portable. Create your custom smokeless fire pit today to accommodate your unique lifestyle.
REVIEWS
100%
of reviewers would recommend this product to a friend
Great product!
i would ask that u make the edges less sharp on the insert ring, or at least tape them for transport. i did not get cut, but seemed like someone easily could.
I recommend this product
| | |
| --- | --- |
| Quality | |
| Customer Service Experience | |
Wish I knew about the NEW ash removal tool before ordering to old design.
Been using the X30 without the brick surround. We love it! Having a hard time finding nice looking bricks that will fit the X30. I would have ordered the new design ash removal tool if we had known about that one.
I recommend this product
| | |
| --- | --- |
| Quality | |
| Customer Service Experience | |
LOVE IT!!
This works just as advertised! After the first 15 minute start up almost ZERO SMOKE! Highly recommend!!! And it's Made In America!!! Brad.
I recommend this product
| | |
| --- | --- |
| Quality | |
| Customer Service Experience | |
Outstanding
Our X30 Smokeless Fire Pit Insert Bundle is OUTSTANDING!! It burns as well as I expected, and even better. Very pleased and will recommend to others.
I recommend this product
| | |
| --- | --- |
| Quality | |
| Customer Service Experience | |
Fire cooking
It's a beautiful way to cook. After having mastered gas cooking, it's a joy to use different hardwoods to cook and the results have been great. Food tastes better, and it also seems to tap into some primal instincts. I feel more relaxed immediately, and I sleep like a baby after using the breeo. It's a life changer. Couldn't be happier. One caveat. If you live close to other people, the fire starting process (first 20 min) can be smoky. I moved ours from the original location further into our property to avoid smoke blowing into our neighbors patio. I didn't expect no smoke, but I hadn't considered the smoke nuisance factor. That was my lack of forethought. The fire is 97% smokeless once the coals are hot. Also, it helps to cut the wood down to smaller pieces as instructed in the breeo video. Smaller pieces grant more control over the desired heat. It puts off a good amount of heat too. The videos are awesome, btw. I love knowing the company a group of awesome people. I will buy other products from Breeo in the future.
I recommend this product
| | |
| --- | --- |
| Quality | |
| Customer Service Experience | |
OWNERS MANUAL & SPEC